Fonts not displaying properly on a Mac: On occasion, you could realize that your Mac is not correctly reading fonts. Your Mac could display a number of issues, including:
As shown in the screenshot below, if the font not recognize, you can see a question mark (?) in place of the typeface's characters.
You might notice that there is an imbalance in the amount of space between the characters.
Letters may be seen overlapping one another.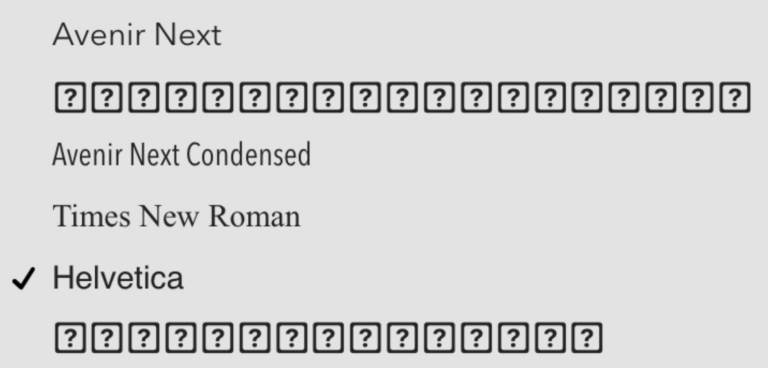 You could run into this problem anywhere you wish to use the typeface. For instance, it might happen in Word, Pages, Keynote, or Numbers. Even programs like Mail or Safari may experience this. Your email or website content may become unreadable as a result of this issue. I describe how to resolve this font issue on your Mac in this article.
Fonts are system plug-ins rather than files or graphics. As with any plug-in, fonts could be broken or incompatible with other apps or fonts. Fonts can stop functioning for a variety of reasons. If you haven't already, you might wish to restart your Mac before doing the procedures below. Make sure your Mac is updated after that. By heading to System Preferences > Software Update on your Mac, you may see if there are any new updates available.
Do a backup of your fonts first.
Before moving on, let's finish this. Being prepared for the worst is always a smart idea because anything can go wrong. The following is how to backup your fonts:
Open Font Book from the Applications folder on your computer.
To select all, pick All Fonts, then Command () – A.
Select File, then Export Fonts from the menu bar.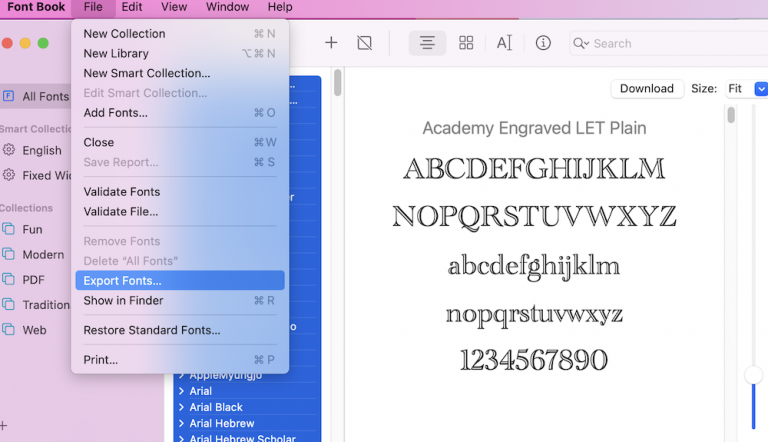 font resolution
Because you have duplicates, you can have an issue with your fonts. Here are some options for handling this. Click Edit and Look for Enabled Duplicates in Font Book. If there are any duplicates, this will reveal them. You will have the choice between Resolve Automatically and Resolve Manually if there are any. The duplicates remove or disable if you want to resolve them automatically. Choose this one. Check to see whether the issue is still present after this.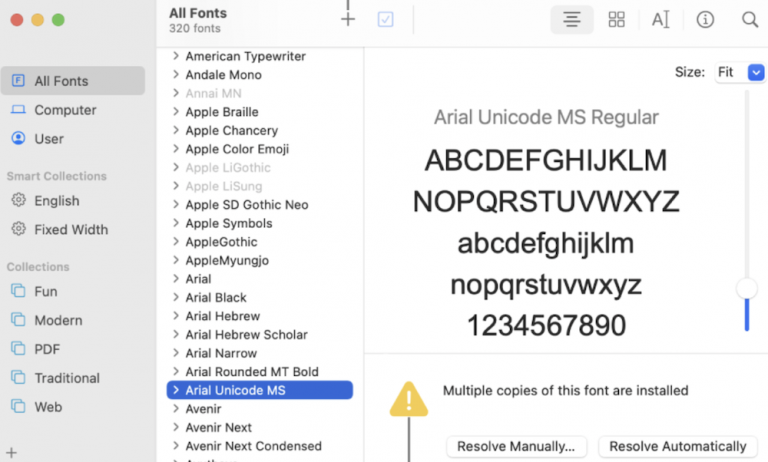 Remove the font cache.
This issue may be brought on by cache files. To clear the cache, follow these steps:
On your Mac, launch Terminal (Applications > Utilities).
Hit enter after entering the following command. Enter your Mac admin password if prompted:

You will receive a notice that reads "Removing……..com.apple.FontRegistry" if the command was successful. then type the next command and press Enter:

The following command will resume the font service after it has been shut down by this.


FAQ
Why won't my fonts display on a Mac?
Restart your computer first, and then check the font once more. Some installations require a restart of the computer before they finish. Additionally, this guarantees that all programs are resumed following the installation.
How do I turn on fonts again on my Mac?
From your Applications folder, launch the Font Book application. Any fonts that are inactive or that haven't been downloaded from Apple are darkened in Font Book. Choose Edit > Download after selecting a font that hasn't been downloaded yet. Choose Edit > Activate after selecting a deactivated font (or Enable).
How can I make Mac Mail's fonts default?
Select Mail > Settings, then select Fonts & Colors to modify these options in the Mail application for Mac. For seeing the message list, alter the typeface and font size. For writing and viewing messages, choose the font and font size.
Can you repair a corrupt File on a Mac?
Mac's Integrated Repair Shop
Click "Utilities" in your Applications folder. To get the repair tool, open the Disk Utility program from that list. Drag your damaged DMG file over to the Disk Utility window at this point. Select "Repair Disk" from the First Aid option after clicking the damaged file.