The Devolo Magic 2 WiFi 6 Mesh offers a dependable and adaptable combination of PowerLine cable connectivity. And mesh wi-fi that can reach every room in your house or workplace. However it will likely be overkill for many homes.
Pros
PowerLine and mesh wireless networking are combine.
Each adapter has two Ethernet ports
Simple to set up and install
Cons
Extremely pricey
Meets minimum wi-fi standards
Limitations on parental control
TWO-MINUTE REVIEW
Devolo's Magic line of adaptors combines PowerLine technology. Which can send a wired network connection to other rooms over your existing mains wiring, with a wi-fi range extender. These adaptors are especially helpful in buildings where thick walls or other obstructions may interfere with your wi-fi signal.
This article's focus is on Devolo's new top-of-the-line router, the Magic 2 WiFi 6 Mesh. As the name implies. It combines wired and wireless networking features to provide an all-in-one solution that should be able to reach even the most difficult areas of your home or office. Making it among the best wireless routers currently available.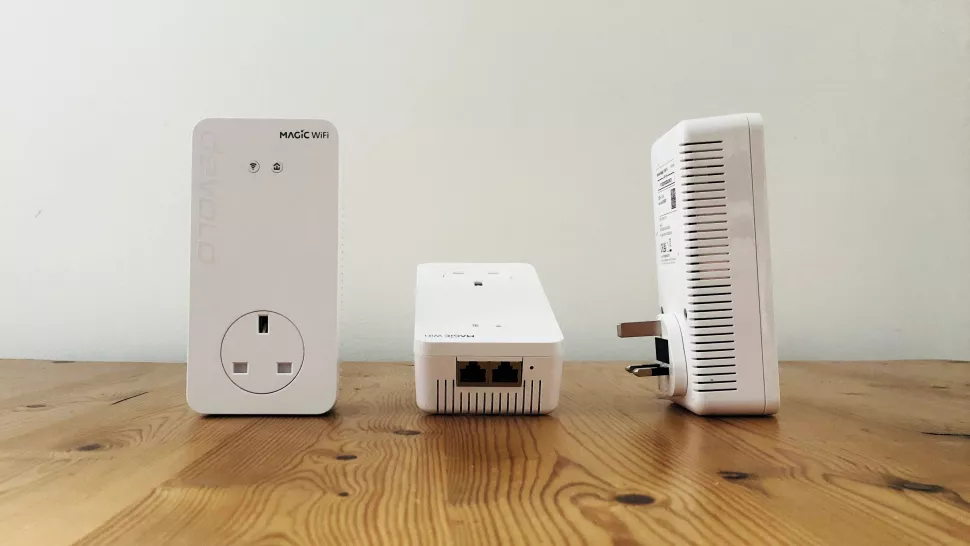 PRICE AND AVAILABILITY
Two-piece Starter Kit for $390/£300
Three-piece kit is $590/£450
There are two alternatives, including a Starter Kit that costs £299.99. Comes with two identical adaptors appropriate for one- or two-story structures (about $390/AU$520). The Whole Home kit, which we evaluate here, costs £449.99 (about $590/AU$785). And comes with three adaptors for bigger structures up to three floors.
Even though it's pricey, if you want PowerLine and wi-fi to offer dependable networking for your house. It can still be a wise purchase.
Price and availability: 3/5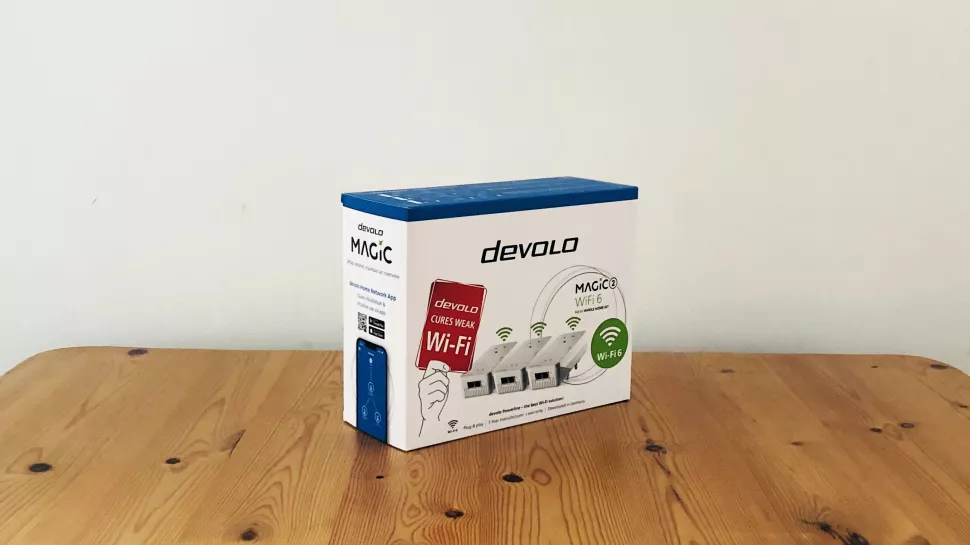 DESIGN AND FEATURES
Easy to set-up
PowerLine, Ethernet, and mesh wi-fi
Chunky design
More than twice the size of a typical 3-pin connector, the three adaptors in the Whole Home package are pretty hefty. This is due to the fact that they also have a mains pass-through connector, allowing you to connect other electrical items to the adapter. It's convenient since it allows you to set up your new network without having to give up using that electrical outlet. Each adapter also has two Ethernet connections, giving a laptop or other devices that prefer a lag-free wired connection a wired network alternative. However, it's unfortunate that each adapter has an Ethernet connector right on the top, since this results in Ethernet wires sticking out of the adaptor and appearing pretty messy.
With a peak speed of 1800Mbps, the Magic 2 WiFi 6 Mesh offers dual-band Wi-Fi 6. Although it's not very fast, that should still be more than enough for the majority of residential broadband services. It's also critical to keep in mind that reliability—rather than speed—is the main concern here, so 1800 Mbps is unquestionably preferable to no wi-fi at all. When necessary, you may also utilize the Ethernet ports for a fast wired connection because the wired PowerLine connection also offers rates of up to 2400Mbps.
DESIGN AND FEATURES CONT'D
Simply put the three adaptors into adjacent power outlets to get started. And then use the Devolo Home Network app to scan a QR code on the box. The Devolo app links the three adaptors effortlessly in a matter of minutes. It then prompts you to choose between creating a new network name and password for the Devolo mesh or using your current network's login information.
The Devolo software blends the 2.4GHz and 5.0GHz bands into a single network by default, but you may, if necessary, build individual networks on each frequency. Although the software is relatively simple to use once you get it going, there are a few kinks. With its parental controls, you can plan when your kids have access to the Internet, but the software makes the unhelpful assumption that you are familiar with technical terms like MAC addresses. Other functions, like Airtime Fairness, which enables you to give particular devices top priority for optimal performance, are tuck away in the app's depths and are difficult to locate.
Design and Features: 4/5
DESIGN AND FEATURES CONT'D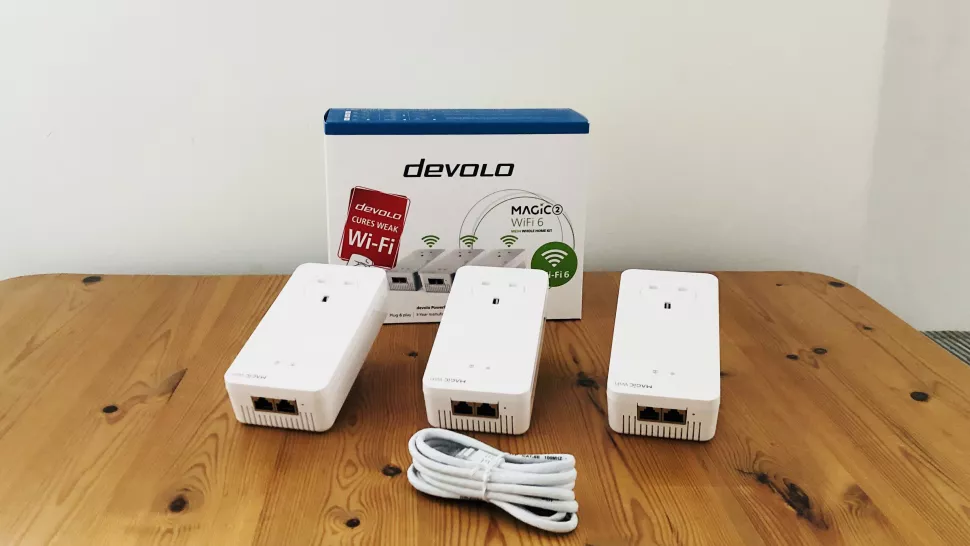 excellent, dependable wi-fi performance
for wired connections, 2x Ethernet
The fastest wireless is 1800Mbps.
These little issues apart, the Magic 2 WiFi 6 Mesh performs admirably in terms of network performance. In order to use the Internet connection provided by our main router, we attached one adapter to it. We then placed another adaptor in our rear office, where we typically use a wired PowerLine connection for our office PCs due to the terrible wi-fi there. To optimize wi-fi coverage, the third adapter was place in a corridor about halfway between the other two.
The Magic 2 WiFi 6 Mesh had no issues cruising along at 110Mbps while using the Ookla Speed Test app with that configuration, and a rock-steady 12.5MB/s for Steam downloads. The Magic 2 WiFi 6 Mesh actually does offer a fast and dependable, though rather pricey, alternative for houses with subpar wi-fi, as they are the greatest speeds offer by our office broadband connection.
Buy it if…
Your Walls Are Thick.
In older buildings, the wi-fi signal may be block by thick walls or other obstacles. The Magic 2 WiFi 6 Mesh employs PowerLine to get through such barriers before setting up a new wi-fi network where it is need.
You Have Several Bedrooms.
The Whole Home kit that we are going to evaluate in this article is mostly intended for bigger homes with bedrooms spread across two or three storeys. Every room will have dependable wi-fi thanks to a mesh network that will be created by one adapter on each floor.
Don't buy it if…
Top speed is required.
The Magic 2 WiFi 6 Mesh delivers somewhat slow wi-fi rates of 1800Mbps, but it is quite dependable. Power users and gamers might want something a little quicker.
You're Budget-Strapped
For just one or two rooms, a PowerLine converter or an inexpensive range extender may be all that is needed in many homes to provide a solid wired or wireless connection.
Also consider…
Devolo Magic 2 Wi-Fi 6
It misses the extra mesh wireless features, but the Magic 2 WiFi 6 basic model costs around £100/$130/AU£170 less and comes with two or three wireless range extenders as well as PowerLine connectivity.
TP-Link RE650 AC2600
In smaller houses, a standalone range extender is sometimes the most cheap option to improve wi-fi, and TP-RE650 Link's offers outstanding performance at a competitive price.
Frequently Asked Questions
1. Worth buying Devolo Magic 2?
There is no denying, however, that the Devolo Magic 2 kit offers decent performance for both wired and wireless connections, and that its adaptable Powerline and wireless networking configuration may be very helpful for bigger households that typically struggle to receive a strong Wi-Fi signal. I think your answer is here.
2. Is Devolo compatible with TP Link?
Get less concerned with the various standards; they are all backwards-compatible and can all be used with various adapters made by various companies. There is no assurance that a TP-Link adapter would function flawlessly with one from, say, TRENDnet or Devolo. However, mixing and matching can affect speeds.
3. Why is my Devolo so sluggish?
Your Devolo powerline adapters might no longer function as they should. For instance, it's possible that you'll lose Internet access or that the transfer rate may drop dramatically. You can usually fix this by restarting the powerline adapters. The adapters are reset to their default settings. I think your answer is here.