To fix Amazon Prime Video quality for LG smart TV, you may need several troubleshooting steps. If you find trouble with the quality of Amazon prime video app because it does not work on your LG Smart TV, keep reading this. There are several reasons for this. For instance, issues with the Prime Video app, weak internet connection, and using an outdated version of the app can be a few reasons.
Amazon Prime Video, also known as Prime Video, is a streaming service. Customers can have access to hundreds of videos through this app. Customers can primarily watch Amazon originals which mainly include films and television shows. Those are produced either by Amazon Studios and MGM Holdings or under license of them. In addition, live sporting events, third-party content, video rentals and purchases, and content add-ons are other services provided by the app. Amazon Prime Video has a big collection of films and TV shows. All of them can be seen in up to 4k Ultra HD quality, HDR, and customers can save films and shows to watch them offline on mobile devices.
Amazon Prime Video App Quality Not Working For LG Smart TV? Keep Reading to Know How to Fix It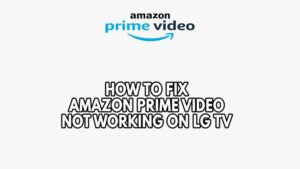 The customers will find it is frustrating when the Amazon Prime Video does not work on LG tv. Especially when you cannot enjoy your leisure time.
Following are the recommended troubleshooting techniques to fix Amazon Prime Video quality for LG smart TV. Before proceeding, make sure that your LG TV is on the latest firmware. 
Fix Amazon Prime Video Quality for LG smart TV: Step by step guide
Fix #1 Check internet connection
Many LG owners fail to spot this. However, as the first step, be sure that you have a good internet connection since that could be the reason behind this problem. Check your connection either with the browser of your LG Smart TV or any device connected to your internet connection.
The minimum download speed recommended by Prime Video for SD content is 1MB/s, whereas it is 5MB/s for HD content. Prime Video will take the available bandwidth speed into consideration, and they will provide you with the best quality streaming experience possible.
Checking Internet Connection
First Step: Open the browser either on your LG TV or computer. You can select any browser you want.
Second step: speedtest.net is a popular site from which you can check your network speed. Type speedtest.net to check your network speed.
Third step : To start the speed test, press the go button.
Fourth step: Wait for the results of the speed test and notice how fast is your download and upload speed.
You should have a connection speed that matches with your subscription plan from your internet service provider.
Having a strong connection is a must to stream Amazon Prime Video. If the internet connection is slow, intermittent, or there is hardly any connection, be sure to restart your network equipment or Wi-Fi. This is network reset. It will be helpful when you experience troubles with Amazon Prime Video.
Step 1: Disconnect the power cords from the power socket on Modem and Router.
Next, Step 2: Now reconnect the modem and the router to the power supply after a minute and turn on the devices.
Step 3: Wait till the lights appear again.
If you need a stable internet connection, Prime Video users can follow these steps:
Step 1: Disconnect other devices connected to Wi-Fi when you are using Prime Video. By doing this, the users will be able to utilize the maximum amount of internet bandwidth.
Step 2: Bring your gadget or the television closer to the router. This enables the device to receive a considerably stronger Wi-Fi connection.
Step 3: If you have got a dual-band router, try connecting the streaming device to the 5GHz channel without connecting it to the 2.4GHz band.
After these steps, check the issues of Prime Video on LG smart TV is resolved.
Fix #2 Check for Server Issues of Amazon Prime Video
In case there is a server outage, users cannot use the Amazon Prime app on any of the devices. And, If there are issues, you will see that there is a crash with Prime Video, or it will get stuck in a loaded spinning cycle. You need to go to DownDetector, to understand whether the issue that you face is due to an outage. There, you ill find how well Prime Video is performing in your area. Further, If Prime Video is not working now, wait till they repair those issues on their end.
If you have reported a Prime Video outage, you have to wait till it is fixed.
Fix #3 Power Cycle LG TV
It is better to reset your LG TV and unplug it from the wall itself. Now, turn on your LG TV to fix the issue on the Amazon Prime Video app. Smart TVs also can be power cycles. To turn off your LG smart TV, you can use your remote control for the LG TV.
Fix Amazon Prime Video Quality for LG smart TV
LG TV Power Cycling
First step: Disconnect the power cord cable either from the back of the television or from the power outlet, whichever is easier for you.
Second step: Press and hold the power button on the TV's side for 3-5 second.
Third Step: Connect the power code to the TV and turn it on now.
Fix #4 Clear Amazon Cache and Data
Corrupted app cache data might be a major issue that causes the Amazon Prime app not functioning on your LG TV. To removed this cache data, you must clear the Hulu app's cache. Stay alert because you need to enter your Amazon Prime name and password after the completion of this troubleshooting step.
Clearing Cache on Amazon Prime App
First Step : Select Settings icon, on your TV.
Second Step : Go to apps and select Amazon Prime.
Third Step: Go to storage and click the clear cache option.
Fourth Step: Now, go back to Home and select the Amazon Prime app, check if it is working.
Fix #5 Update Amazon Prime App
If you need to resolve any problems, updating the Amazon Prime app is a must do. When you update the app, there will be many improvements, including bug fixes.
Updating the Amazon App to Fix Amazon Prime Video Quality for LG smart TV
First step: Go to your LG content store.
Second step: Type "Amazon Prime" on the search bar
Third step: Select the Amazon app icon.
Fourth step: Now tap the Update button.
Fifth step: Wait till the app finish updating.
Fix #6 Install the Amazon Prime App again.
Since there is a possibility for the problem to happen due to a malfunctioning Amazon Prime App on your LG TV, uninstalling and reinstalling the Amazon Prime app will help to solve the issue.
Frequently Asked Questions
Can't we change the video streaming quality of amazon prime videos in smart tv?
You can if you use the mobile app. But, there is no option in Smart TV.
How do I switch from HD to SD on Amazon Prime streaming?
There's a little gear icon to the top right corner, when you play a video on your computer,. There, you can choose the video quality.
How do I change the video streaming quality on Amazon Prime on an Amazon Fire Stick?
First go to the settings. Then, scroll right to where you can see 'preferences'. Now, scroll down to 'data monitoring'. After, scroll down to 'set video quality' and finally select "best".