Having issues with the speed of your Wi-Fi? There are two fast tweaks that can greatly increase Wi-Fi speed and just take a minute. Try it right away to Boost Your Wi-Fi Speed Up to 5x.
Experiencing a sluggish Wi-Fi connection? Even while you may be paying for a 100Mbps internet package, your real broadband and Wi-Fi connection speeds are likely only a small portion of that, leaving you to wonder whether your money is being wasted. Furthermore, you are squandering time because even downloading simple things takes 20 times longer than it should!
Changing your Wi-Fi channel is a fantastic and simple solution for a sluggish Wi-Fi connection. Your 2.4GHz and 5GHz connections should experience an instant speed enhancement after applying this update.
A Wi-Fi Channel: What Is It?
The 2.4GHz and 5GHz bands of your Wi-Fi router are used to transmit the signal. Each band uses a unique frequency, and each band has other channels that transmit on somewhat different frequencies as well. While the 5GHz band transmits better quality Wi-Fi that is more prone to interference or interruption, the 2.4GHz band broadcasts lower quality Wi-Fi that can reach farther.
There is also a brand-new 6GHz Wi-Fi spectrum available right now, but we won't discuss it here.
The most important thing to understand in this situation is how your router's Wi-Fi channel impacts your Wi-Fi capabilities. Within each band, there are only a certain number of Wi-Fi channels. You may notice interference and a slower Wi-Fi connection if too many routers in a close proximity try to utilize the same Wi-Fi channel or band.
Thankfully, Wi-Fi channel interference doesn't have to make your Internet connection sluggish! You may manually change your Wi-Fi network's channel selection to try to locate a quieter, interference-free channel if you have access to the administrative settings on your Wi-Fi router.
How to Change Your Wi-Fi Channel at 2.4 GHz
Changing your Wi-Fi channel might provide you an extra bit of power if you're searching for a Wi-Fi speed increase. However, there are two things you must finish first. The first step is to use a Wi-Fi analyzer app to determine the busiest and quietest Wi-Fi channels nearby. You are trying to change from your current busy channel to the quietest channel.
The IP address of your Wi-Fi router is the second item you must determine. You won't be able to access your router to change the Wi-Fi channel settings if you don't have it. Once you have it, type the IP address into the address bar of your web browser (instead of the website name, such as makeuseof.com), and then click Enter. You will then need to input your login information on the router's admin login screen.
Manufacturer-specific router administration and settings sites are different, but you'll find that the following methods are largely the same.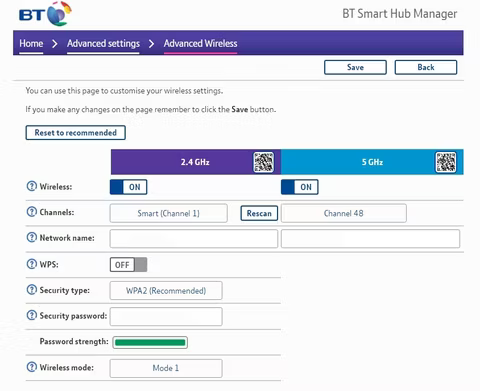 Navigate to the Wireless, Wi-Fi, or Advanced Settings to find your Wi-Fi settings.
Find your 2.4GHz Wi-Fi possibilities, and then choose a Wi-Fi channel.
Pick a different 2.4GHz Wi-Fi channel. The router shown in the aforementioned photos only offers the 1, 6, and 11 channel choices. The only 2.4GHz channels that don't overlap are these three, and most routers set your connection selection to one of these channels by default.
Press Save after choosing a new 2.4GHz Wi-Fi channel selection.
You may choose from the whole range of 2.4GHz Wi-Fi channels if you're using a more sophisticated router, which is often one that you purchased independently of your ISP.
Change Your 5GHz Wi-Fi Channel
The process of changing your 5GHz Wi-Fi channel is quite identical to that described above, with the exception that there are a lot more channels available.
While 5GHz Wi-Fi has 20 channels, 2.4GHz Wi-Fi only utilizes a maximum of 11 (it really has 14, however certain Wi-Fi channels are forbidden). Additionally, 5GHz channels have a lower likelihood of overlapping and have the ability to merge with a neighboring channel to form a single, bigger channel. While this sounds great, it could also expose your Wi-Fi broadcast to a larger region of interference, among other unwanted consequences.
Navigate to the Wireless, Wi-Fi, or Advanced Settings to find your Wi-Fi settings.
Then, find your 5GHz Wi-Fi options and Wi-Fi channel choices.
Select a different 5GHz Wi-Fi channel. The sample router shown in the photos above has only four channel options: 36, 40, 44, and 48. As previously noted, a better router will provide you access to the whole spectrum of 5GHz Wi-Fi channels!
Press Save after choosing a new 5GHz Wi-Fi channel selection.
How to Easily Boost Wi-Fi Speed
The Wi-Fi channel technique can increase Wi-Fi speed, but you must maintain the total performance boost's reality-based foundation. You may have read that it gives a Wi-Fi connection an instant 5x speed boost, however that is only true in areas with extreme Wi-Fi congestion and maybe certain other improperly adjusted Wi-Fi settings.
It's still worth a shot, and even if the increase in Wi-Fi speed is only a few Mbps, that's still far better than nothing, right?
Frequently Asked Questions
1. How come 2.4 GHz is so slow?
The 2.4 GHz band gives you slower speeds at a longer range, while the 5 GHz band gives you faster speeds at a shorter range. So, if you want the fastest WiFi speeds, you should always use the 5 GHz band. However, the more devices you have on one band, the slower your WiFi will be. Hope your expected answer is there.
2. Could my neighbors cause my internet to lag?
First, be aware that there are many Wi-Fi channels. Even if you're on distinct networks, the fact that you and your neighbor are utilizing the same Wi-Fi might be the reason of its slowness. Using the same channel as your neighbor might result in device interference between one or both of your routers. Hope the answer is there.
3. What app improves WiFi?
Because it effectively combines professional capabilities with usability and simplicity, NetSpot is our favorite Wi-Fi booster program. In order to choose the least congested channel for your personal network, you may use Wi-Fi Analyzer, a famous Android Wi-Fi booster software, to find Wi-Fi networks in your neighborhood.