How to Repair a Mac Update: Several people claim they can't get their Mac to update to the newest version of macOS. They claim that after selecting Update Now (or Upgrade Now) in System Preferences > Software Update, the update process never moves past the "Checking for updates" page. In this article, I'll go over what you can do if an update on your Mac becomes stuck and causes problems.

The installation of macOS will often be complete, but it can take some time. But if you are spending hours on the "Checking for updates…" screen, something is wrong. The update screen can appear to be frozen, and you might also see an image of a spinning wheel to indicate that the update is not responding. When a user tries the update procedure once more, the issue frequently reappears.
I should point you that updates to macOS generally go without a hitch. Normally, it takes a while. Your Mac will first check for updates, then download and install the necessary updates from Apple's servers before restarting. You can take use of the new enhancements in the most recent macOS after restarting.
It is crucial to rapidly resolve this issue if you are experiencing it. Maintaining the security and efficiency of your Mac requires regular updating. Please follow these instructions to solve this issue.
These errors could have a number of causes.
There could be a number of issues causing the "Checking for updates…" loop. Among them are, but not restricted to:
an unreliable or slow Internet connection.
Apple update servers that are unresponsive.
Your Mac lack of available space.
software clash
a problem from the past that prevents the update.
Look into your Internet connection
As was already said, a bad Internet connection can be the root of this issue. Your Mac won't be able to access the update servers if your connection is the issue because the update files must first download. If you're having problems, try disconnecting and replugging your modem or router to restart it. You can try restarting your Mac's network settings if this does not solve your problem.
Similarly, briefly turn off any antivirus software you may have before trying again. Your antivirus program could be the issue. Third-party programs that offer security or cleaning features are also software that could impede upgrades.
examine Apple servers
The next step is to determine whether there is an Apple outage if your Internet is functional. Apple could be facing problems. You can quickly verify this. Locate the macOS Software Update option by going to the Apple System Status page (direct link). There is no outage if a green icon is displayed next to it. A red dot signals an issue if you see one. There was no problem with the updated servers at the time the screenshot below was taken.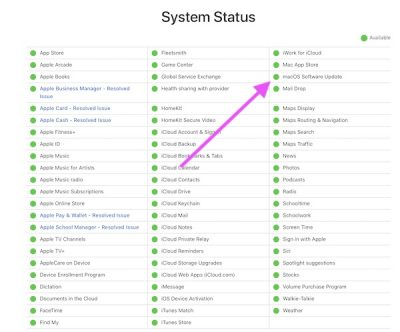 Examine your storage
These updates, especially the significant changes, can be quite substantial. If you don't have enough free space on your Mac, the update may not install because it must first download there. Choose About This Mac from the Apple menu, then click Storage. With your Mac, you can make storage space available if necessary. For the time being, you shouldn't worry about this if you have a lot of room available.

Switch off and then on again your Mac
Of course, it's a cliché. Then again, you ought to. It frequently finds solutions, so it might find one for this one as well. Restarting the computer will flush the system and may solve your problem if the update is stalled in the background.
Restart by choosing the Apple menu. Try again after restarting by selecting Software Update in System Preferences.
Safe Mode will start your Mac
Like a restart, but with additional features, is Safe Mode (or fewer extras – if you are considering what software gets loaded). Your system will check in Safe Mode, and cache files will clear. It is a macOS diagnostic mode. Try updating your Mac when it is in Safe Mode. If the Mac updates are installed successfully, restart your computer and use it as usual. If the update does not function in Safe Mode, exit Safe Mode and attempt the update once more. On Intel and Apple silicon Macs, there are distinct procedures for launching Safe Mode. Check our post on Safe Mode for a prior piece we wrote about this.
Remove the macOS Install data
Remove the macOS Install folder if necessary. This issue could be brought on by the current folder. You can remove this, restart your Mac, and then attempt the update once more. As follows:
On your Mac, launch Terminal (under Programs > Utilities).
Hit enter after entering the following command. your administrator password, please.

3. Reboot your Computer and try one more.
Reset the preferences for software updates
This issue could be brought on by corrupted software update choices. Perhaps you should reset them. A list file must delete in order for your Mac to create a new one. As follows:
Re-open Terminal.
Hit enter after entering the following command.

FAQ
How do I fix Monterey's stuck Mac OS looking for updates?
To refresh the macOS Monterey Update, restart your computer. Restarting the Computer is the easiest fix. You will need to restart the software update if you choose to do this manually because it will stop the update from installing. Keep in mind that the software upgrade will pick up where it left off.
Why does my Mac keep trying to find updates?
Check Mac's storage and clear the App Store cache. This solution is useful in resolving similar problems. These caches can occasionally stop your Mac from updating its operating system, apps, and other things. Check if your Mac can look for updates after clearing the caches.
How can I tell if a Mac update is frozen?
Check the "macOS Software Update" status to determine if the update servers are functioning properly. If the bubble is green, they are fine and another problem exists. If it's red or yellow, you'll just have to wait till the servers are back to normal to deal with the issue.
How is a stuck Apple update resolved?
First, restart your iPhone on a hard reset, then delete the software update. If your iPhone is stuck in update mode, you can try forcing a restart. After the device restarts, it should no longer be stuck.
Can you force an update on a Mac?
manually check for updates
To manually install updates on your Mac, carry out one of the following actions: Choose Apple menu > System Settings, then choose General in the sidebar (you might need to go down), and then click Software Update on the right to download the latest macOS upgrades.
Why keeps my update from working?
These kinds of issues are typically brought on by a software clash or a previous problem that wasn't discovered until the updates began to install. These are seldom brought on by an error in the update itself made by Microsoft, but they do occur.
Why is my computer unable to update?
Restarting your computer is the first line of defense if you're positive the update failed. If at all possible, restart it in the standard manner: The Power icon should lick first, then Restart. If you can no longer reach your Start menu, hold down the power button until the computer restarts.