Anyone who needs a quick and easy dash cam with front and back cameras should consider the Thinkware X1000. Although it lacks GPS and cloud backups of your film, it has a fantastic tiny touchscreen and can be used without an app to take advantage of all of its functions.
Pros
A great touchscreen and app-free functionality
A box with two cameras plus includes 32GB microSD card
Cons
Needs careful hardwiring
Records available immediately
No cloud backup
The Thinkware X1000 dash cam comes from a company that is quite knowledgeable with recording video while in motion. It's understandable why this model has so far been well-liked by consumers.
Everything you need to maximize dash cam monitoring include in the box, including two cameras. The drawback is that in order to fully utilize its capabilities, you must have it hardwired in. It's one of the greatest dash cams you can have, though, providing you don't mind this or the lack of an integrated GPS or Wi-Fi for cloud backups.
You can find anything you need by looking inside the box. There are two cameras, one of which is a larger rear-facing device and the other of which is a front-facing unit. Additionally, you receive the cabling required for the hard-wiring installation.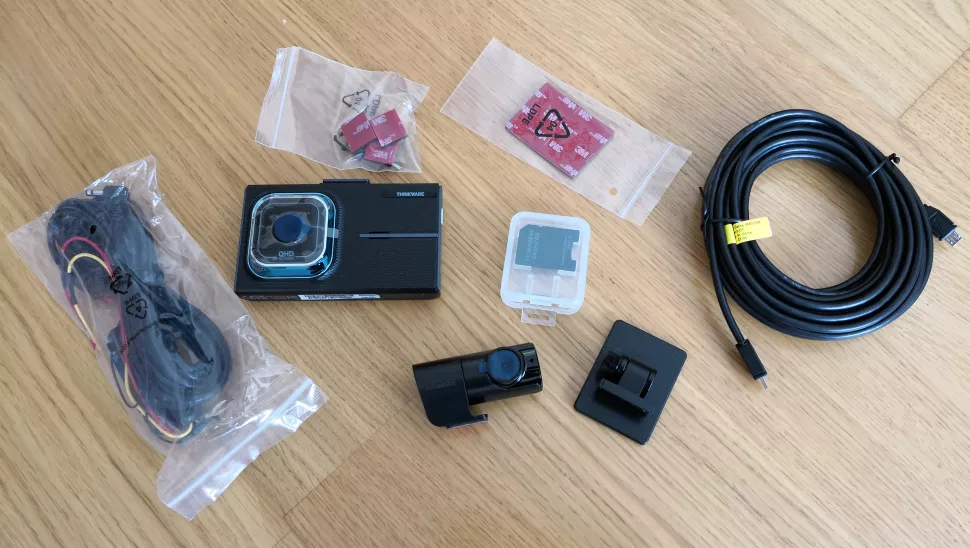 Even while a novice could complete this hardwiring, you could discover that it would be wiser to spend your time and money having it install by a professional. The main benefit of this route is that it is always ready to use, and any cabling may tucke away safely.
Fortunately, Thinkware also includes a sizable 32GB microSD card with the X1000, which may utilize directly. If you'd rather, you could always substitute one with a bigger capacity. It's simple to plug that in, and a 3.5-inch touchscreen located on the rear of the case makes it convenient to set up and operate the camera.
Thinkware 1000x cont'd
The numerous sticky pads required to attach the cameras to your favorite surfaces are also there. While you're navigating the installation process, the quick start guide comes in handy, though it could be more thorough. Additionally, a sturdy plastic mount include for the main camera, which helps to minimize movement after it is installed.
The rear-facing camera and the device itself feel well-made. The Thinkware X1000 is very simple to use. The touchscreen offers you access to all of the main features and functionalities as soon as it is power on.
With self-explanatory indicators guiding you through the chores, this works pretty well. Additionally, there's no need to fumble with a companion app, which may be especially appealing to those customers who want a more "direct action" approach with their dash cam.
The Thinkware X1000 provides the performance that you would expect from a high-end dash cam solution. The sleek lines of the housing conceal a fantastic small Sony IMX335 5.14 Starvis image sensor. The film has great promise when used with the lens.
Thinkware 1000x cont'd
Though we found the Thinkware X1000 performed well out of the box, you can also adjust capture settings using the touchscreen. Even better, it begins recording right away without any user interaction. Mind you, not everybody necessarily wants this.
Expect both cameras to offer Quad HD 1440p, 2560 x 1440 quality, as well as a broad 156-degree field of view in the final video.
Results were remarkable in both bright light and at night, with lots of sharp detail visible and a respectable amount of dynamic range thanks to the HDR processing. In general, we considered the outcomes to be impressive under various circumstances.
If you spend the effort to hardwire the Thinkware X1000, you might as well take advantage of the rest of its capabilities. For instance, the parking surveillance mode looks for any suspicious activity near your valuable car.
Thinkware 1000x cont'd
It can be wise to purchase the second radar detector buddy if you need even more help with vehicle protection. Additionally, if you want to use Thinkware's lane departure features, a GPS attachment that is optional is required.
There are several positive aspects of the Thinkware X1000. It's fantastic that you can start operating right away. This model may be plugged into your car via the power socket if you purchase Thinkware's Dash Cam Accessory kit, saving you from having to deal with hard wiring. Unless you already own a DC-in connector that can perform the same function, however, this and the additional accessories indicated do increase the entire cost.
The X1000's simplicity of use, however, is its strongest attribute. The menus are clear, and the touchscreen functions nicely. For individuals who require a front-and-rear model, the Thinkware X1000 checks the majority of the right boxes in this regard.
The Thinkware X1000 should be high on your purchase list if you don't care about built-in GPS or Wi-Fi for cloud backups and your top priority is a stress-free, high-performance dash cam.
Should I buy the Thinkware X1000?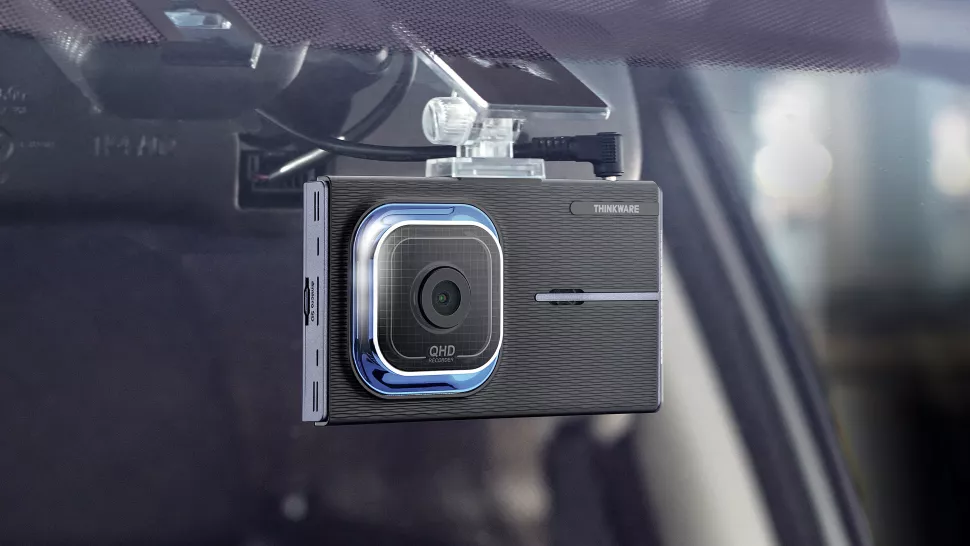 You're searching for an almost perfect dash cam.
The Thinkware X1000 is an excellent tiny two-camera package despite lacking a few expected capabilities, such as GPS.
You find the concept of a touchscreen dash cam appealing.
One is available on the X1000, and it works admirably, providing one-touch access to all of the essential features and features.
You don't want to use another app, The Thinkware X1000 operates without the need for additional software, allowing you to remove one app from your phone.
You don't want to hardwire anything.
Although the Thinkware X1000 can function with a plug-in adapter, permanent wiring is preferable, though difficult, and may require a professional.
GPS and other premium features are required.
For the X1000, Thinkware does provide supplementary features like a GPS module, however they are extras that cost money.
There is no requirement for a rear-facing camera.
This model is quite useful if you want to maintain track of what is behind you, but it is not necessary for the majority of individuals.
Frequently Asked Questions
1. Is Thinkware a trustworthy brand?
Since 1997, Thinkware has been a pioneer in the development of cutting-edge Smart Car Information technology. Thinkware has established itself as a top option for supplying dashcams to consumers, fleet owners, and business users worldwide over the years. Hope the answer is with you. if not surf internet for more details.
2. Where are Thinkware products made?
Thinkware, a company founded in Korea in 1997, goes beyond the basics, offering the best optics, including Sony STARVIS image sensors, as well as advanced parking surveillance modes, thermal protection for use in hot climates, and up to 4K resolution. They also offer smart driver assistance with collision warning.
3. How does the Thinkware app work?
Your Thinkware Dash Cam may be easily accessed through THINKWARE CLOUD (Thinkware Dash Cam Mobile Viewer). Download the greatest driving videos from your dash cam to your smartphone's photo gallery and post them to social media. All in one app, watch back your most recent driving movies and control your dash cam's settings!
Related posts: